KidRunner SKI™ Conversion Kit
Performance Sports Equipment
KidRunner SKI™ Conversion Kit
Performance Sports Equipment
PRE-ORDERS Shipping in December, '23! Limited time, 15% off till September 30
Coupon Code: KR SKI KIT at check out. 
If you already own a second generation KidRunner RUN, then the new KidRunner SKI was designed to easily convert your RUN into the highest performing Nordic SKI solution. 

The SKI kit is sold separately and shipped to you with easy assembly and performance instructions. You can now convert back and forth from RUN to SKI in minutes. 
Our dream: create the ultimate, lightweight, high-performance experience. We teamed up with elite skiers, parents, and conducted rigorous testing. After months of innovation and field testing, our skiers gave the green light. It's now the best way to Nordic Ski with kids!
KidRunner SKI is - 

Lightest SKI product on the market at < 20 lbs. 
Unique and patented full Nordic body motion waist harness
Center-engineered connection that enables complete pole swing
Adjustable width, independent suspension cockpit skis for multi-terrain control
Fully integrates with the award winning KidRunner RUN solution
Pre-Order Promises and Terms - 
All pre-orders will be 100% refundable until customer delivery date. Upon delivery, we will extend our same 2 week, fully refundable money back promise minus the cost of US shipping. Full warranty and return terms are available on the, 'Return & Refunds' section of the website. 
Product info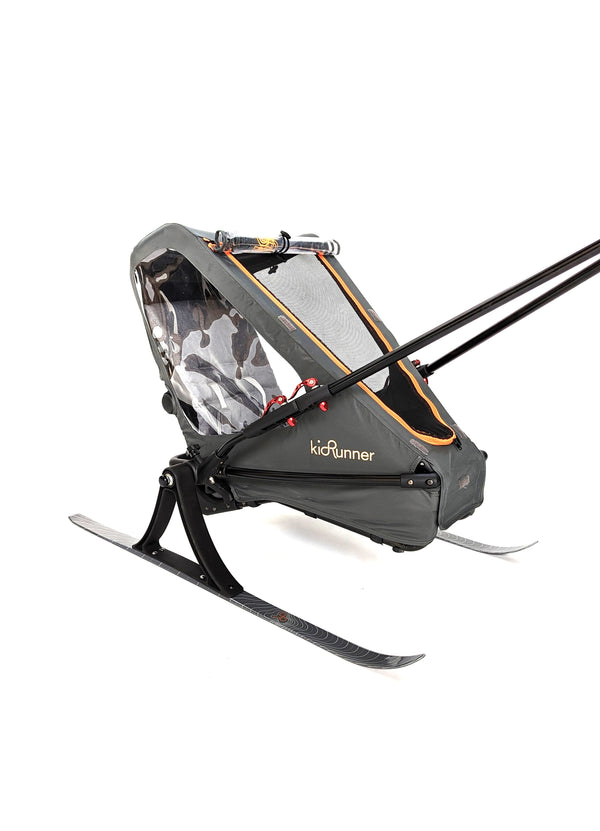 Natural running

Hands and arms free running generates the highest, most efficient performance for runners. Period. It reduces injury and is the most versatile. It's why we invented KidRunner.

Terrain

Multi-terrain running is freedom. Only KidRunner takes you there. Run on dirt, trails, beaches. Explore.

What do Kids think?

Kids love it! They interact and participate in a shared experience. Parents run miles, cross finish lines and do personal best times...with their kids cheering them on.

Experience

Freedom. Performance. Versatility. These are the experiences that define KidRunner for parent runners. "KidRunner is a game changer." Anthony D.
Technical specifications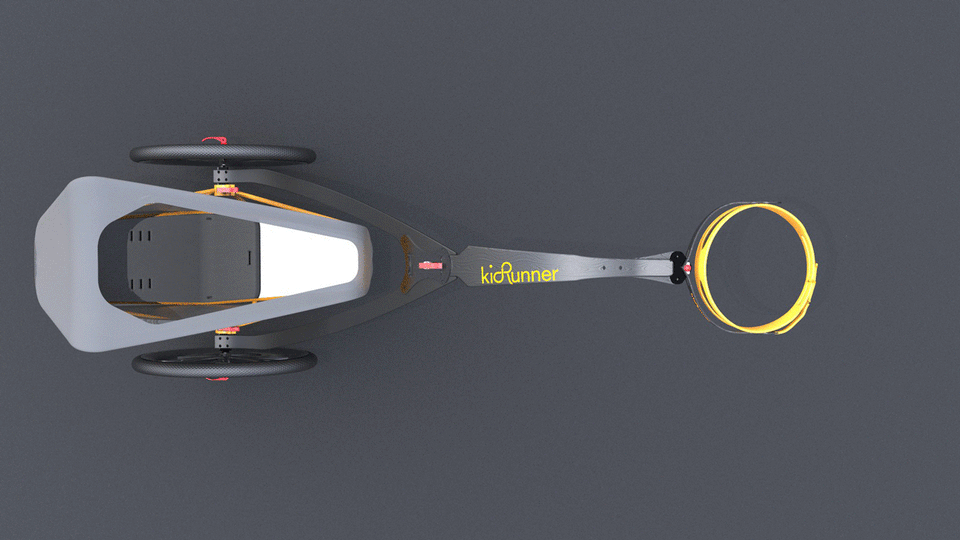 19lbs light

KidRunner is sports equipment so we used advanced materials and innovative design to make it ultra-lightweight; only 19 lbs.

HDS damping system

KidRunner has three US patents for it's Harmonic Dampening Solution (HDS). HDS enables safe, comfortable, high performance, multi-terrain running for parents and their kids. Physics. Magic. Both.

Waist Harness

The waist harness is lightweight, durable, breathable and ergonomically designed. It fits waist sizes 26" to 46". The harness includes an integrated, quick release dog leash tether to run with your dog.

Materials

Carbon composites, 6061-t6 aluminum space frame, sealed stainless bearings and magnesium spokeless wheels are just some of the features of what makes a KidRunner innovative.
The Dream Machine!!
The KidRunner SKI really made our winter! We enjoyed countless ski adventures as a family, and as a stay-at-home mom, I really made the most out of nap time by getting out and enjoying the trails.